SIM RACE ONLINE GT3
SEASON 1 - TEST RACE
July 6th @ Laguna Seca
(Place holder until a graphic or title image is made)
BACKGROUND
Dude, check it. Laguna Seca is like, a totally chill paved road racing track in central California and stuff. It's used for both auto racing and radical pimpin motorcycle racing. It was originally constructed in 1957 near both Salinas and Monterey, California, USA when the waves were tubular and the surfbettys were spiffy. The only people that don't like this track are mankface jerkwads.
The current racetrack is 2.238 miles (3.602 km) in length with a 180 feet (55 m) elevation change. Whoa, gnarly. It has eleven turns, including the cock shockingly famous "Corkscrew" at Turns 8 and 8A that will have you saying 'cowabunga' to the delight of all the hot majas watching. You'll be jonesing to try it again, eager to tell all the salty sisters about the hella mad ride. A variety of racing, exhibition and entertainment events are held at the raceway, ranging from superkarts to sports car racing to music festivals, much to the joy of wooly woofters and broskies alike.
The name Laguna Seca is Spanish for "dry lagoon", or something. I dunno, dude, I just copy and paste. The area around a track was originally a lake apparently; do you think there were any sick bumps for windsurfing back in the day? The native broheems probably had a cooleoleol time! The course was originally built around the lake, duh, which has since dried up entirely. Lame. An artificial pond has since been added. Probably by some donk that doesn't like surfing.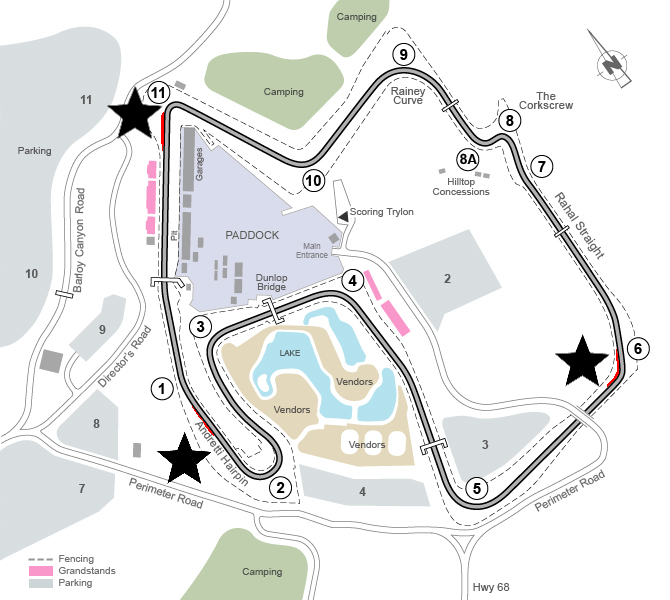 Marc Gene going for the unofficial track record in the F1 2003-GA. Makes the corkscrew seem like any 'ol corner.
MotoGP won't let it stream from here for some reason. A titanic battle between two greats!
Bitchin'.
HIGHLIGHTED CUTTING RULES
Turn 2 -- Four-wheels over the white line here is illegal, but the car pictured below is just fine.
[click to enlarge]
Turn 6 -- I chose to highlight this because it's a popular place to cut before the run up to the Corkscrew. Two-wheels on the sand & two on the kerb is definitely NOT legal.
[click to enlarge]
Turn 11 Exception -- The kerb and grass-turf on the exit is legal to use. Definitely get back onto the circuit before the cones if you are using this line.
[click to enlarge]
NOTES


Remember, we won't strike down upon you with great vengeance and furious anger just because you cut a corner. Don't feel like you need to drive on eggshells, just try to avoid gaining time by doing it and break any bad habits you may have .

RACE DETAILS
17:00 GMT -- Official Practise begins
19:00 GMT -- Qualifying (12:00 Pacific / 15:00 Eastern)
19:15 GMT -- Warmup
19:25 GMT -- Feature Race
20:05 GMT -- Warmup*
20:15 GMT -- Sprint Race*
* Times are approximate & subject to change depending on technical issues, drivers finishing and small differences in race length.
DOWNLOAD TRACK
(Nobody better say they can't find the link for the track or I'll lose it)
Feel free to voice any questions or concerns! It's best to get them all sorted now

.
Last edited by John Bacho on Sat 6 Jul - 16:57; edited 12 times in total