SIM RACE ONLINE GT3
SEASON 1 - ROUND 2
July 20th @ Nürburgring GP
INTRO
Guten tag meine Freunde! Round 2 of the SROL GT3 Championship is soon upon us. This time we're off to an old and moldy circuit (in rFactor terms), ISI's "Nuerburg GP". As far as the ISI tracks go it still holds up well for racing. I just wish there was a scratch made or laser scanned version

. Compared to the other circuits on the calendar, the grip is a tad slippy. Unlike the point & squirt nature of Monza, lots of spring rate, anti-rollbar and downforce settings will be tinkered with throughout the week.
It's tough to bet against Anders Nilsson and Stephen Baliey fighting for pole and victory here, but there may be some surprises from the Porsche driving Swedes of Göran Strandh and Kjell Stenbeck. Tyre wear is always a worry at a circuit with low grip and medium speed corners; Bailey nearly roasted his fronts off in his BMW Z4 at the Laguna Seca test race. Perhaps a lower tyre camber setting is in order?
Bailey enters this round with a 3 point advantage over Nilsson.
STANDINGS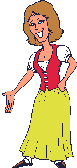 HISTORY
"Do we need to keep writing this section in the native language?"
"YES!!!!!!!!!!!"
Der Nürburgring ist ein Motorsport-Komplex rund um das Dorf Nürburg, Rheinland-Pfalz, Deutschland. Es liegt etwa 70 km südlich von Köln und 120 km (75 Meilen) nordwestlich von Frankfurt. Es verfügt über eine Grand Prix-Rennstrecke im Jahr 1984 gebaut, und eine viel längere alten "Nordschleife" Spur, die in den 1920er Jahren rund um das Dorf und die mittelalterliche Burg von Nürburg in der Eifel gebaut wurde. Die Nordschleife ist 20,8 km lang und hat mehr als 300 Meter Höhenunterschied von der niedrigsten bis zur höchsten Punkte. Jackie Stewart Spitznamen alten Track "The Green Hell", und es wird allgemein als die anspruchsvollste und schwierig Zweck gebauten Rennstrecke der Welt zu sein.
Ursprünglich kennzeichnete die Strecke vier Konfigurationen: die 28.265 km lange Gesamtstrecke, die wiederum von der 22.810 km Nordschleife bestand, und die 7.747 km Südschleife. Es war auch ein 2.281 km warm-up Schleife aufgerufen Zielschleife oder Betonschleife, um den Pit-Bereiches.
Der neue Nürburgring wurde 1984 abgeschlossen und rief GP-Strecke. Es wurde gebaut, um die höchsten Sicherheitsstandards gerecht zu werden, wurde aber im Charakter als ein bloßer Schatten ihrer älteren Geschwister. Einige Fans, die viel weiter weg von der Strecke sitzen hatte, nannte es Eifelring, Ersatzring, Grünen Ring oder ähnliches, zu glauben, es nicht verdient zu nennen Nürburgring werden.
Die neue Schaltungsanordnung auch einen Merkmal vieler der Schaltungen zum Zeitpunkt, da es einige Möglichkeiten zum Überholen angeboten.
NOTES


There are a different lines into the first corner. The race start will be more about getting through cleanly than trying to do your optimum line. Please try to avoid going three-wide here, it might be wide in the braking zone,  but it quickly tightens up at the apex.

Refer to the cutting rules below. It might appear that I'm being generous, especially in Turn 4, but those allowable areas are frequently used for the racing line in many real life series.

TIMES
17:00 GMT -- Official Practise begins
19:00 GMT -- Qualifying (12:00 Pacific / 15:00 Eastern)
19:15 GMT -- Warmup
19:25 GMT -- Feature Race --
23 laps
20:05 GMT -- Warmup*
20:15 GMT -- Sprint Race* --
10 laps
* Times are approximate & subject to change depending on technical issues, drivers finishing and small differences in race length.
Last edited by John Bacho on Sun 13 Oct - 22:24; edited 8 times in total